Frequently Asked Questions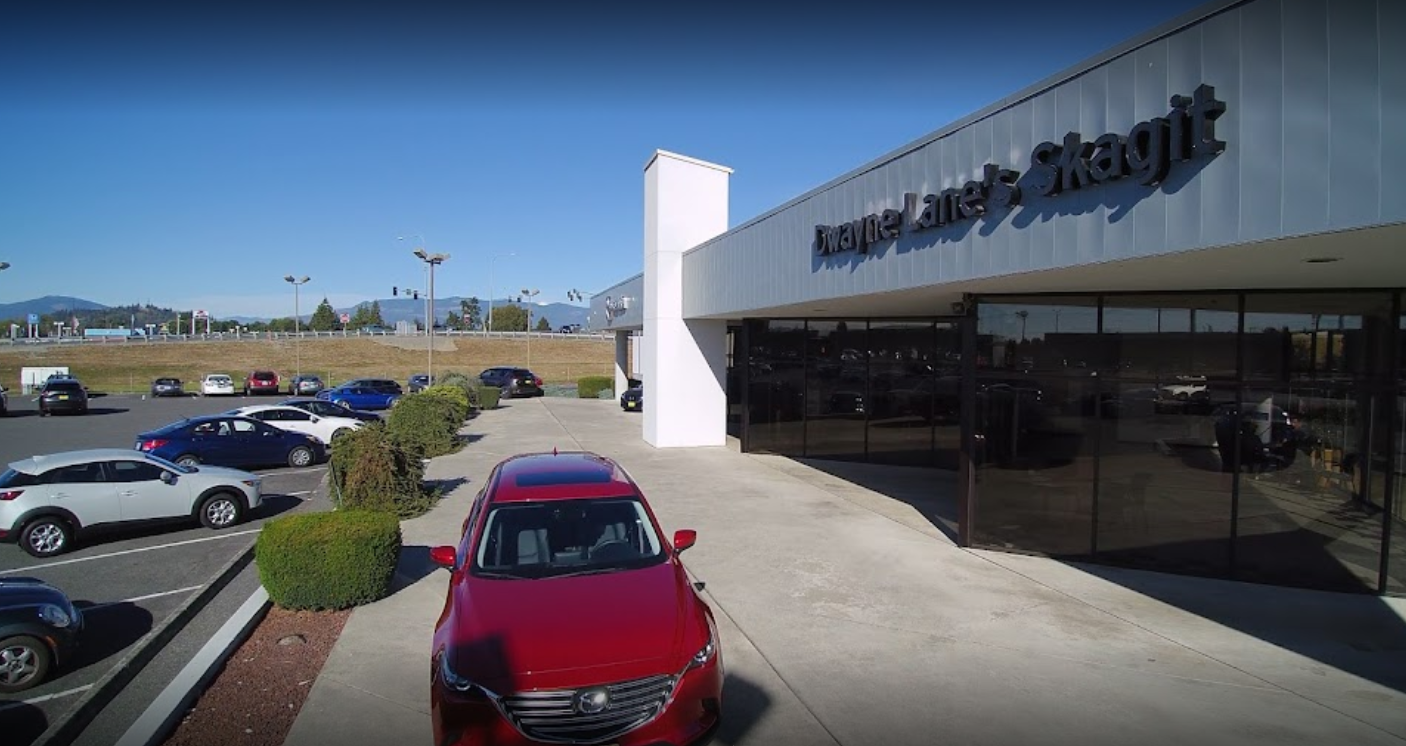 Questions:
Does Dwayne Lane's Skagit Mazda sell used cars?
Yes. Buying a quality, clean, and affordable used car for a great price is easy at our Burlington, WA dealership. Simply browse our vast online inventory and you'll see precisely why Dwayne Lane's Skagit Mazda is the first name so many Western Washington drivers think of when they're in the market for a pre-owned vehicle.
Why should I buy a used car from Dwayne Lane's Skagit Mazda?
Because so many other discerning car shoppers in Western Washington turn to us first! For some, our large selection of new vehicles, quality used cars, and our affordable pricing appeals most. Others appreciate our friendly team and enjoyable shopping environment.
Combined with our abundance of positive customer reviews, the above benefits of buying a new or used car from Dwayne Lane's Skagit Mazda make one thing certain: You'll always find a stress-free car buying experience from any of our Dwayne Lane Auto Family locations.
Can I see a vehicle history report?
Yes. We believe transparency is a cornerstone of the car buying experience at Dwayne Lane's Skagit Mazda. Our helpful sales team is more than happy to provide you with an accurate and up-to-date vehicle history report for any vehicle that you're interested in. Each used car sold at our dealership adheres to a strict commitment to quality and reliability, so you can shop with confidence knowing that a complimentary and comprehensive vehicle history report is available to you.
What are the benefits of buying new versus buying used?
Buying a new car is a great idea if:
You enjoy driving new cars
You want the latest and greatest safety technology
Cutting-edge infotainment and connectivity for your smart devices is a top priority
You like the peace-of-mind that comes with being protected by a factory warranty
You want the lowest interest rate available
You want to take advantage of new car incentives directly from Mazda
Buying used is probably the right call if:
The budget-friendly nature of pre-owned cars appeals to you
You want to get more value and are seeking a gently used premium vehicle
Keeping your car insurance rates low is a priority to you
You want to benefit from the Dwayne Lane's Advantage and commitment to reliability through our in-depth inspection, repair, tune-up, and detail process
Can I finance my taxes, registration, and other fees?
Yes. Nearly all car loans bundle taxes, registration fees, and other expenses into the loan. This is a great way for shoppers to reduce the upfront costs associated with buying and registering a car.
Can I include cost of service contracts, gap insurance, accessories, and other vehicle related items in the total amount that I finance?
Yes. We know that being flexible with financing additional services over time goes a long way toward making the car-buying process more convenient and stress-free for everyone.
If you'd like to take advantage of optional upgrades when financing your next vehicle, simply let us know and we'll be happy to help spread the cost out over the term of your loan.
Can Dwayne Lane's Skagit Mazda help me get a loan if I have no credit history?
Yes. Connecting first-time car buyers with the loan they need to purchase a new or used vehicle is one of our many specialties. Give us a call today and we'll happily discuss how our approach makes auto financing simple for newer and first-time car buyers.
What if I owe more than my car is worth?
Commonly called under water, or upside down, in an inequity position, or buried, our in-house finance team has seen it all before. We leverage many years of experience assisting car buyers through this exact situation. It starts with a fair offer to buy your trade-in vehicle.
Typically, we can roll any inequities into the new loan. This means that we pay off the difference and you start a new loan on the new car. This allows you to drive home in style in the vehicle you really want.
Can I sell you my used car even if I don't make a purchase?
Yes. The team at Dwayne Lane's Skagit Mazda is always ready and willing to buy your car for a fair amount and our check is good today.
What is gap insurance?
Gap insurance provides coverage for the remainder of your auto loan should an accident or collision completely total your vehicle. In the event of the total loss of your car, gap insurance kicks in to protect your credit and pays off the negative equity on your loan if you owe more than the depreciated value of the vehicle.
Do I really need gap insurance?
Gap insurance is a great asset to have if you:
Made a small down payment
Selected a loan term 48-months or longer
Plan on putting more mileage on your vehicle than the typical driver
Value the peace-of-mind that comes with complete financial protection
What does "LTV" stand for?
"LTV" stands for "loan-to-value". The loan-to-value (LTV) ratio is a tool used by lenders to represent the amount of money owed on your loan relative to the value of your vehicle. For example, if you currently have a loan for $15,000 on a car that's worth $20,000, your LTV is 75%.
If you owe more than your current vehicle is worth, your LTV will need to be addressed. The Dwayne Lane's Skagit Mazda team has decades of experience assisting car shoppers through this exact situation.
What does "POI" stand for?
"POI" stands for "proof of income" and is a metric that helps lenders verify your stated income during the loan application process. Some common examples of proof of income include:
Pay stubs
Bank statements
Last year's federal tax return
Form W-2
What is the difference between leasing and financing?
Financing a car places complete control in your hands for as long as you own your vehicle. Leasing is a temporary ownership agreement that pre-negotiates the value of your car at the end of the lease. With a lease, you can easily switch into new vehicles every few years and never be surprised by an unexpected dip in value. To determine which option works best for you, contact us and we'll layout all your options to help you make an informed decision.
Should I buy or lease a vehicle with Dwayne Lane's Skagit Mazda?
This depends entirely on your unique wants, needs, goals, and financial considerations. Here's an overview of the differences to help make the decision a little easier:
You should consider leasing a vehicle if:
You love the idea of upgrading to the latest and greatest model every few years
You only need a car for a short time and would rather not set up longer-term financing
You're seeking lower out-of-pocket costs at signing
You prefer lower monthly car payments
You should think about buying a vehicle if:
You love the idea of owning the car you drive
You want the freedom to sell your vehicle whenever you'd like
You want to keep your insurance costs as low as possible
You know you'll put a lot of miles on your car
Give us a call to speak with one of our financing experts. We're happy to answer any questions you may have and help you make an informed decision on whether to finance or lease.
How does leasing differ from owning a vehicle?
As far as your day-to-day experience goes, buying a vehicle from us or leasing one of our outstanding new models is the same. Both options allow you to drive around in the vehicle of your choice, and we'll always be here to provide you with the best service in and around Western Washington your vehicle is due for routine maintenance.
The real differences come from a big picture perspective. Financing a vehicle gives you complete ownership of your chosen car, while leasing comes with a fixed term of ownership. At the end of this period, you can either upgrade to a new car with the latest technology and features, or you can purchase your current vehicle at the pre-negotiated buyout price if you're still loving your car.​